A little-known fact about Shykatz Café & Bakery, in addition to being a neighborhood eatery where friends meet and locals eat, we like to give back to the community by doing charity work. Giving a mere donation to a worthy cause for a few years just did not seem like enough to compensate for the locals who have helped keep the doors open over the last thirteen plus years. So…. we decided to also give our time by helping local chapters of charities in fundraising. We have tried to assist a worthy cause every month of the year to show our compassion and the spirit of selfless giving back to the community. The last year has been a test run and we began spending our time assisting worthwhile organizations such as the "Hike for Hope" a fundraiser whose goal is suicide prevention and co-sponsorship in the "Walk for Melanoma" organized by UTMB. The next organization we are devoting our time and energy to is to the Alzheimer's Association.
November is Alzheimer's Awareness month. We have chosen this cause because one of our local citizens, Ashlynn Gonzales, has made the team for TCS NYC Marathon, an official charity partner of the Alzheimer's Association. Each member must not only meet stringent health criteria to participate in the 26-mile event, but each contestant must agree to raise or contribute a total of $4200 by November 3rd, 2023. The event is scheduled for November 5, 2023 in New York City. For those who would like to contribute they may do so in one of the following ways: 1) donation jar or 2) through Ashlynn's webpage. The donation jar will be located inside Shykatz Café & Bakery, 1528 Avenue L, Galveston Island through the month of October and November. All proceeds will be presented to Ashlynn on November 2, 2023, the day before the entry deadline, November 3, 2023. The remaining donations collected through November will be turned over to the Alzheimer's Association at the end of November. For a direct donation to Ashlynn's fundraiser without having to go anywhere please use QR code located below. Let's help this extraordinary young lady help those that wish to end Alzheimer's. Show your support to a worthy cause and to Ashlynn's spirit of empathy and determination.
To donate directly to Ashlynn's fundraising webpage, use the following QR Code: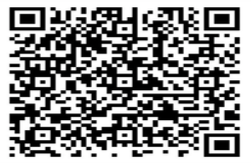 *** Ashley Eason is our social media coordinator, also heads up our Charitable Cause Board at Shykatz Café & Bakery. She will be glad to assist with any questions or comments regarding this cause or planning for future events along with myself, Billy Wise. We can be reached at (409) 770-0500, (M-F 8am – 2 am).